Danielle Degiorgio, Digital and Information Literacy Project Adviser, Edith Cowan University Library
Sue Khoo, Librarian (Digital and Information Literacy), Edith Cowan University Library
What is Power BI?
Power BI is a Microsoft data visualisation tool that displays data in an easy-to-read format and allows users to interact and show relationships between different data sets.
Why Power BI?
Our goal was simple, we wanted to connect the mapping of digital and information literacy skills across the course curriculum to the teaching and learning activities we were doing each semester. We just had one problem, we were recording our data and statistics in multiple spreadsheets.
As luck would have it, the 2021 VALA Tech Camp was hosted at Edith Cowan University Library that year and we were introduced to Power BI through a series of workshops. Soon after we decided to use Power BI to help us keep track of student statistics in a more visually appealing way and it let us connect multiple sources of data. This meant we could compare, filter, and visualise relationships between multiple spreadsheets which allowed us, and more importantly our manager, to see our progress across courses.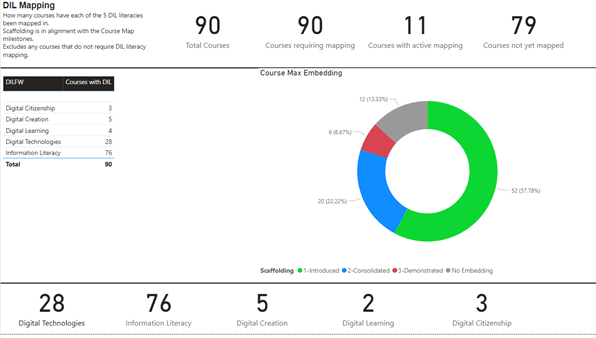 Things we got Power BI to do:
Connect information from multiple spreadsheets to show how much digital and information literacy skills coverage we have in each course.
Filter and display subsets of data.
Be hosted in Microsoft Teams for ease of access where the report can be shared and displayed as a tab in Teams.
Automatically update data from SharePoint, so having all our sheets hosted on SharePoint / Microsoft Teams mean we can easily add data into the model. Our Power BI reads directly from SharePoint files and updates at 9am every day.
Skills: What magic do you need?
Spreadsheet and table management – Power BI relies on external data. You must have the data cleaned and stored in a data source such as Excel (or databases such as Salesforce or Access).
Logic and relationship management – Connections can be 1-1 and 1-many but only one model may exist at a time. If there are conflicts Power BI will complain.
Ability to play with formulas and data types – If you need a relationship that isn't expressed in the Power BI map you will need to learn to write the formula for it.
How to put together a graph – Knowing what graph suits your needs be it a scatter plot, ribbon chart, pie chart, or fish.
Professional Google skills – If something goes wrong, be ready to Google it!
Pitfalls: What to watch out for
A lot of trial and error and Googling – No training will prepare you for what you want to do. There may be things you want to do but Power BI only gives you the basic tools. You will have to build what you want from there.
Broken or dirty data – Power BI relies on relationships between different tables and inputs to build the model. If a piece of information is missing and if that is the connection in the model, it will skip that line. This has resulted in expectations not meeting what was displayed.
Know your data story – Power BI does not do data interpretation. You need to know what you want to tell. This is one of the main issues on the final display of information.
Permissions – Our shared spreadsheets and the dashboard were stored in places where we didn't have full access to use. Arrange the files so each input has the right permissions to do SharePoint integration.
How do you get started?
But what about the fish?
The most important thing to remember is to be creative and have fun with your data!